Brookes Schools Lead International Education in the Russian Federation and Participates in SPIEF 19
Saint Petersburg, June 2019 – Brookes Education Group, which owns and operates high quality, independent international schools around the world, participated in the St. Petersburg International Economic Forum (SPIEF19), in St. Petersburg on June 6-8, 2019.
Saint Petersburg, home to the Groups eighth school addition, Brookes Saint Petersburg, welcomed over 19,000 people from 145 countries to the SPIEF 19′  to discuss this year's key topic, 'Creating a Sustainable Development Agenda'. The event has grown into an 'open platform to exchange best practices and key competences in the interest of providing sustainable development' and welcomes participants from both local and global business communities. (SPIEF, 2019)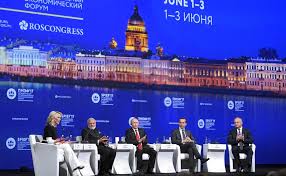 Brookes Director, Europe, Africa, Middle East, David Rose and Brookes Moscow and Saint Petersburg Head of School, Charley King, attended the SPIEF 19 to participate in global discussions and connect with the community and introduce our thriving international schools in Russia. 
Brookes Russia is a center of excellence and a blueprint for others to follow. It is that mission that Mr. Rose and Mr. King shared with all delegates who attended SPIEF 19.
Brookes Moscow and Brookes Saint Petersburg are determined to build a next generation reputation, operate efficiently, be technologically sophisticated, communicate clearly with families and have the highest expectations for every single student. 
Across the U.S.A., India, South Korea, Canada, the United Kingdom and now Russia, Brookes dares to be different while providing great education for its students and exciting and challenging professional development for its staff.
Brookes Moscow opened its doors in September 2018 and welcomed His Royal Highness Prince Michael of Kent, from the British Royal family to formally address the inauguration ceremony. His Royal Highness said:
'A school should be a hub of creativity and innovation and play an important part in the community in which it is situated. International education provided in the style of Brookes aims to bring together a diverse school population where, regardless of nationality, religion and culture, an understanding of, and respect for each other is at the core. It is about working together to create a better world – one that is not influenced by media misrepresentation, bias and misplaced national chauvinism.'
With a strong local partner in Pioneer Group, Russian licensing, fully-qualified internationally experienced teachers, unmatched facilities and the educational programs of the International Baccalaureate, Brookes has set itself a target to provide the very best choice in bilingual education in Moscow for both local and expatriate families. The Brookes Moscow building which houses a performance hall, sports halls, swimming pools, spacious hi-tech specialist classrooms and safe, attractive outdoor play space is set over 18,000 sqm and can hold more than 800 students aged from 2 to 18. From October 2019 in response to demand, Brookes Moscow plans to offer supervised, modern boarding accommodation for students already in Moscow, from within the Federation and across the world.
Earlier this year, Brookes Saint Petersburg reignited the educational market in Saint Petersburg with the same intention. The 250-pupil capacity, historic center campus, close to the Peter and Paul Fortress is open for business and is enrolling local and international students aged from age 4 to 18. It too has gone through the rigorous Russian education licensing process so that it can confidently accept students of all nationalities who will be taught by extremely talented and dedicated, professional  international teachers.